This beta version 0.9.9.0 should be the last version before finally launching 1.0. It fixes several bugs, one of them lead to a blurry appearance on retina displays. Tablecruncher checks for new updates once a week, if it is allowed to do so in the Preferences menu.
This version also has some improvements for working with really large files. You can now disable Undo for single files to save memory when dealing with huge data sets. When opening a CSV file with uneven row lengths, Tablecruncher issues a warning to the user: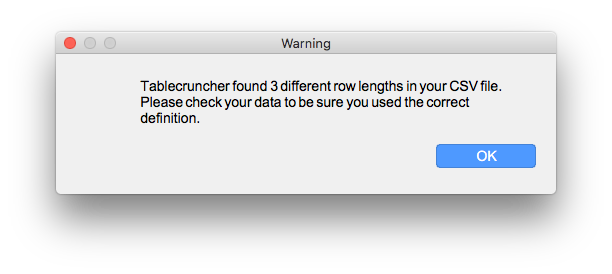 Finally, version 0.9.9.0 is the first Tablecruncher version to be notarized by Apple. This check should ensure that the application you downloaded doesn't contain any malware. This is optional at the moment, but will be mandatory for the upcoming macOS Catalina.